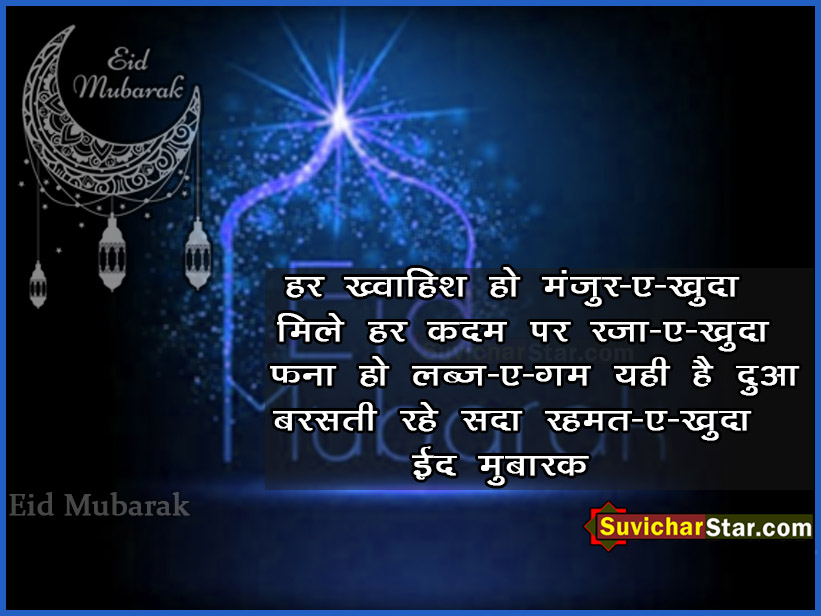 ईद का त्यौहार आया है
खुशियां अपने संग लाया है
खुदा ने दुनिया को महकाया है.
देखो फिर से ईद का त्यौहार आया है
आप सभी को दिल से ईद मुबारक.
Eid Pe Kon Sa Tohfaa Doon Tum Ko..!
Dil Jo Agr Doon Sambhaal To Loge Naaa..!!?
Eid ka chaand tumne dekh liya…
Chaand ki eid ho gayi..
Mandir ki sidhiyon par baitha chand ko dhoondh raha tha…
mujhe apne doston ko Eid ki badhaai jo deni thi….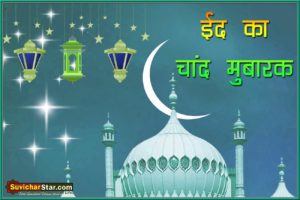 Koi itna Chahye Tumhey to Batana,
Koi Tumharey itney Naaz uthaaye to Batana,
EID MUBARAK to har koi Keh day ga Tumsay,
Koi Hamari tarah Kahey to Batana.
Eid aaye Tum na aaye kya Maza hai Eid ka
Eid hi toa Naam hai Ek Dusre ki Deed ka
Apna to kisi tarah katt jayega ye Din
Tum jis se milo aaj uss ko Eid Mubarak.
Chand se roshan ho Ramzan tumhara,
Ebadat se bhara jaye Rozah tumhara,
Har Namaz aur har Dua ho kubol tumhari,
Yehi hai Allah se duwah humari.
Hasrat hai aapka deedar kare
Aap aao to hum bhi eid kare
EID MUBARAK .
Eid ka din hay aaj to galay mil lay zaalim,
Rasm-e-duhniya bhi hay, moqa bhi hay, dastoor bhi hay!
Badal Se Badal Milte Hai
To Barish Hoti Hai..
Dost Se Dost Milte Hai To Eid Hoti Hai.
Eid Mubarak Frnd.
अर्ज़ किया है ….ज़रा गौर फर्मायिगा।
उनको देखूं तो टूटे मेरा रोजा।
उनको देखूं तो टूटे मेरा रोज़ा।
चाँद को देखे बिना भी ईद होती है कभी।
कोई इस चाँद से तो पूछे उसका मजहब क्या है ।
कल ईद पे हंस रहा था आज तीज पे मुस्करा रहा है ।।