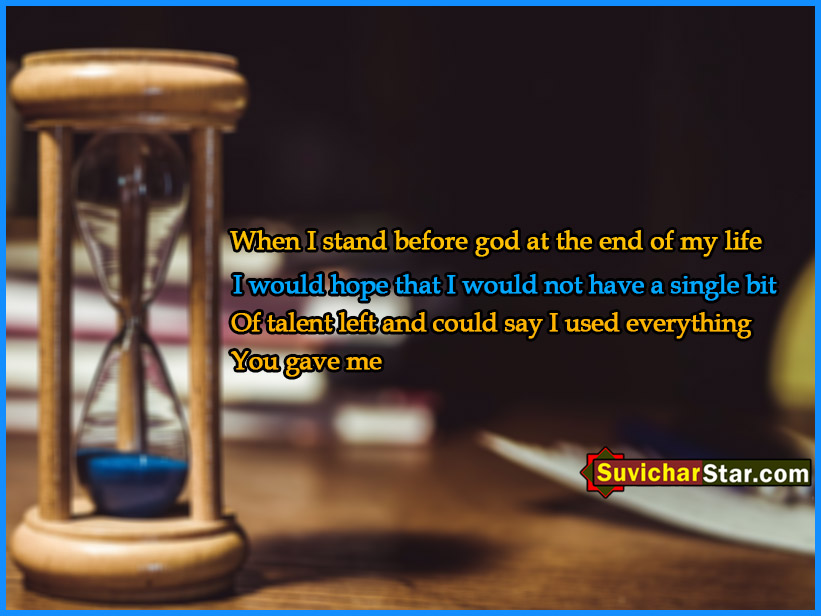 Top Ten English Thoughts
1.Top Ten 
When I stand before god at the end of my life
I would hope that I would not have a single bit
Of talent left and could say I used everything
You gave me
2.TOP TEN 
POSITIVE PEOPLE, THOSE WHO CHOOSE A GOOD MOOD OVER A BAD DAY, HAVE A POWERFUL ADVANTAGE OVER NEGATIVE THINKERS. WHILE SOME PEOPLE ALLOW LIFE'S PROBLEMS TO GET THEM DOWN, 
3.TOP TEN 
OPTIMISTIC PEOPLE REMIND THEMSELVES THAT BAD TIMES ARE ONLY TEMPORARY. THEY FIND WAYS TO PRACTICE POSITIVITY, AND WITH A SUNNY OUTLOOK ON LIFE, THEIR ENERGY IS WILDLY INFECTIOUS.
4.TOP TEN 
IF YOU WANT TO BE HAPPY, AND NOT JUST FOR ONE DAY, FOCUS ON THE THINGS THAT WILL HELP YOU REMAIN POSITIVE OVER TIME. BECAUSE A POSITIVE ATTITUDE CAN DO MORE THAN JUST MAKE YOU FEEL GOOD—IT COULD ALSO CHANGE YOUR LIFE.
5.TOP TEN 
A POSITIVE ATTITUDE CAUSES A CHAIN REACTION OF POSITIVE THOUGHTS, EVENTS AND OUTCOMES. IT IS A CATALYST AND IT SPARKS EXTRAORDINARY RESULTS.
6.TOP TEN 
VIRTUALLY NOTHING IS IMPOSSIBLE IN THIS WORLD IF YOU JUST PUT YOUR MIND TO IT AND MAINTAIN A POSITIVE ATTITUDE
7.TOP TEN 
IT'S ACTUALLY COOL TO BE POSITIVE AND OPTIMISTIC AND IDEALISTIC. IT'S COOL TO SEE YOURSELF DOING BEAUTIFUL, GREAT THINGS
8.TOP TEN 
OPTIMISM IS THE FAITH THAT LEADS TO ACHIEVEMENT; NOTHING CAN BE DONE WITHOUT HOPE
9.TOP TEN 
HAVING THE POSITIVE BELIEF THAT IT WILL ALL BE OK JUST MEANS THAT YOU HUSTLE AND MAKE IT WORK BECAUSE FAILURE IS NOT EVEN AN OPTION IN YOUR OWN MIND
WHEN THE NEGATIVE THOUGHTS COME—AND THEY WILL; THEY COME TO ALL OF US—IT'S NOT ENOUGH TO JUST NOT DWELL ON IT…. YOU'VE GOT TO REPLACE IT WITH A POSITIVE THOUGHT